Department of Health HBN's & HTM's
Show me:
Resilience planning for the healthcare estate
Health building note HBN 00-07
Sorry, this book is currently not available
Format:

Corporate Author:

Great Britain Department of Health Estates and Facilities Division

Publisher:

TSO (The Stationery Office)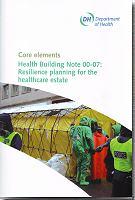 This Health Building Note provides guidance on developing NHS facilities resilient to a range of threats and hazards. Based on the Integrated Emergency Management model, which is the UK's national approach to emergency planning, it provides both a strategic approach to resilience planning and technical guidance on measures to enhance resilience. Resilience issues should be considered early in the procurement process and included in the project brief and designs should then be evaluated to see that the level of resilience meets the requirements. A list of questions to be posed when assessing a design is included as an annex.
Find similar publications here: