Department of Health HBN's & HTM's
Show me:
Health Technical Memorandum 05-03: Operational Provisions - Part F: Arson Prevention in Healthcare Premises
Firecode - Fire Safety in the NHS
Author:

Department of Health

Publisher:

TSO (The Stationery Office)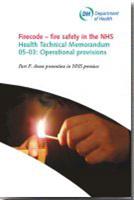 Fires have great significance in the case of hospitals and other healthcare premises because of the presence of large numbers of in-patients. The safety of those patients, visitors and staff are the primary remit of healthcare organisations with regards to fire safety. In attempting to prevent, control, and detect arson, healthcare organisations will need to select a combination of measures to produce an effective policy, taking account of this Health Technical Memorandum (HTM), other Firecode documents (available below), all statutes and regulations referred to in Firecode documents, the NHS Security Management Manual, the advice of local fire and police authorities, and the advice of staff in the healthcare organisation.
Find similar publications here: