Department of Health HBN's & HTM's
Show me:
Electrical safety guidance for high voltage systems
Health technical memorandum HTM 06-03
Format:

Corporate Author:

Great Britain Department of Health Estates and Facilities Division

Publisher:

TSO (The Stationery Office)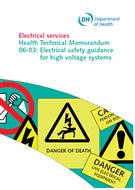 This document sets out operational guidance on electrical safety requirements for high voltage systems in healthcare premises. It is intended to assist in meeting the requirements of the Electricity at Work Regulations 1989 which detail the precautions to be taken against risk of death or personal injury from electricity in work activities. This document replaces and supersedes all previous versions of Health Technical Memorandum 2021 'Safety code for high voltage systems'.
Find similar publications here: