Department of Health HBN's & HTM's
Show me:
Medical Gas Pipeline Systems: Low Hazard Permit to Work
Health Technical Memorandum 02-01
Author:

Great Britain Department of Health Estates and Facilities Division

Publisher:

TSO (The Stationery Office)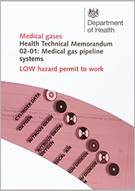 This is one of three forms that supersede HTM 2022 (1999, ISBN 011322141X).
Separate forms are available for High hazard (ISBN 9780113227396) and Bacteria filter (ISBN 9780113227402) permits to work.
Guidance on use of the forms is contained in HTM 02-01 Part B Operational management (ISBN 9780113227433), and further information on the new system is available in HTM 02-01 Part A Design, installation, validation and verification (ISBN 9780113227426).
Find similar publications here: