School Teachers' Pay and Conditions Document 2008 and Guidance on School Teachers' Pay and Conditions
Author:

Department for Children, Schools and Families (DCSF)

Publisher:

TSO (The Stationery Office)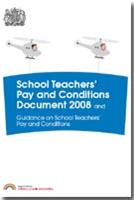 The Education Act 2002 gives the Secretary of State power to issue guidance on pay and conditions matters, to which those concerned must have regard. Since 2003 this publication has brought together the two key parts of the framework for the England and Wales pay arrangements – the School Teachers' Pay and Conditions Document ('the Document') and the statutory guidance.
The main changes to the Document since 2007 are:
Pay scales bringing in a 2.45% pay award from 1 September 2008 have been incorporated.

An increase of 2.45% in the value of the TLR1 and TLR2 ranges from 1 September 2008; a requirement to increase all TLRs in payment by 2.45% from 1 September 2008 (paragraph 23); and provision to increase by 2.45% from 1 September 2008 all TLRs which are in the staffing structure but which have not yet been awarded.

An increase of 2.45% in the value of SEN allowances.

Additional increases for some main and upper pay scale teachers in inner and outer London.

New arrangements for excellent teachers' pay, following a STRB recommendation in their 15th report (2005). From 1 September 2008, excellent teachers will be paid on a spot salary within a range.

The unqualified teachers' pay scale has been shortened from 10 points to six, to meet concerns on gender and age discrimination. The criteria for the award of the unqualified teachers' allowance are also being tightened up.

A standardisation of the method of calculating pay and working time for part-time teachers has been introduced to bring about consistency of practice.

Annex 4 signals future changes that will have effect from September 2009.
Find similar publications here: