Recycle Bins in Public Places: 'Recycle on the Go'
A Voluntary Code of Practice and Good Practice Guide
Author:

Department for Environment, Food and Rural Affairs (Defra)

Publisher:

TSO (The Stationery Office)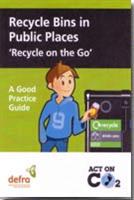 In a time of great public concern about the environment, recycling is becoming an increasingly important part of everyday life. The Government is placing particular emphasis on extending the recycling culture beyond the home and office environments and into public spaces, in order that recycling becomes second nature to all.
Made up of two parts - a voluntary code of practice and a good practice guide - this publication is an essential guide for those managing public spaces, from shopping centres and parks, to educational establishments such as schools or universities, or sports stadiums and visitor attractions. Wherever people congregate there should be recycling opportunities and this publication aims to advise and enable the people who manage such spaces to do so effectively.
Subjects covered include: how to set up a management process; what types of material to collect; what type of recycling bins should be used and where they should be located; and how to promote the recycling scheme. Advice is non-prescriptive, allowing each scheme to be tailored to meet the specific needs of individual circumstances.
Key features:
Consists of Voluntary Code of Practice and Good Practice Guide.

Printed on recycled paper containing 80% post-consumer waste and 20% Totally Chlorine Free virgin pulp.

Provides good practice advice for managers of public spaces in order to enable an effective recycling scheme.

Supported by the website www.recyclenow.com
Find similar publications here: