Anti-social Behaviour Bill: thirteenth report of session 2002-03 report, together with formal minutes and appendices.
House of Lords papers 2002-03 120 House of Commons papers 2002-03 766
Sorry, this book is currently not available
Format:

Corporate Author:

Great Britain Parliament Joint Committee on Human Rights

Author:

Corston Jean chairman

Publisher:

TSO (The Stationery Office)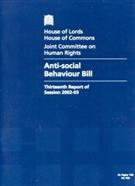 The Committee considers that the power in Part 1 to issue Closure Notices and make Closure Orders in respect of crack houses would not give rise to any significant risk of incompatibility with Convention rights. There would be adequate measures available to prevent innocent people,including children, from having their rights violated by a closure order made under Part 1 of the Bill in respect of a crack house. The procedural safeguards,including the need for a hearing in the county court, and the strict conditions to be fulfilled before orders may be made demoting a tenancy, should in principle be sufficient to protect rights under ECHR against violation by depriving troublesome public sector tenants of security of tenure under Part 2 of the Bill,and would meet the standards of due process required by ECHR. However,in their view,the term 'anti-social behaviour ' without any definition to limit its meaning is an unacceptably vague term to use when authorizing an interference with a Convention right and they recommend that objective definitions of these terms should be included in the Bill.