Lords Select Committees
Show me:
Aspects of the economics of an ageing population 4th report, session 2002-03 Vol. 1 Report
House of Lords papers 2002-03 179-I
Format:

Corporate Author:

Great Britain Parliament House of Lords Select Committee on Economic Affairs

Author:

Peston Maurice Harry Peston Baron chairman

Publisher:

TSO (The Stationery Office)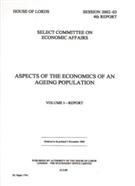 In 2001, for the first time, there were more people aged over 60 in the UK than those under 16 years, and by 2051 it is estimated that one in four people will be aged over 65. This upward shift in the age structure of society is what is meant by the term 'ageing population'. The Committee's report examines some economic aspects of the challenges this demographic trend raises. It focuses on employment matters in relation to participation, productivity and age discrimination; as well as with regards to the implications for private and public resources provision for retirement, household circumstances and consumption levels. The report recommends job and workplace redesign and the promotion of skill acquisition in order to enhance the work capacity of older people. It also calls for comprehensive legal and cultural initiatives to ensure the elimination of age discrimination in both the public and private sectors. Other conclusions reached include that, despite inadequate voluntary private pension saving, further compulsion in addition to that existing under the national insurance system is not inevitable; and there is a need for the creation of an independent authority to give stability and certainty in the design and implementation of appropriate pension policies.
Find similar publications here: