House of Lords Papers
Show me:
Draft Mental Incapacity Bill: session 2002-03. Vol. 1: Report together with formal minutes. Reprinted December 2004 (revised price)
House of Lords papers 2002-03 189-I House of Commons papers 2002-03 1083-I
Sorry, this book is currently not available
Format:

Corporate Author:

Great Britain Parliament Joint Committee on the Draft Mental Incapacity Bill

Author:

Carter Denis Victor Carter Baron chairman

Publisher:

TSO (The Stationery Office)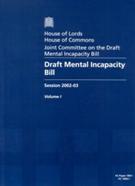 The Committee's report endorses the principles and general direction of the draft Mental Incapacity Bill (Cm. 5859, ISBN 0101585926 published in June 2003) and its aim of replacing common law uncertainties with a comprehensive statutory framework to define mental capacity. The report finds that the Bill should be seen as enabling rather than restrictive, having to strike a delicate balance between respect for individual autonomy and the need to protect the vulnerable. It acknowledges the difficulties in creating a satisfactory legislative framework for mental capacity of varying degrees and for decisions ranging from the everyday to the life. General support is given for provisions to change the law regarding advance decision to refuse medical treatment in certain circumstances (including "living wills"), although additional assurances of safeguards against abuse may be needed. Some key areas still need to be addressed, such as the status of independent advocates, access to information issues and the likely resources implications of the Bill, and the report makes almost 100 recommendations for consideration.