House of Lords Papers
Show me:
Draft Civil Contingencies Bill session 2002-03 report, together with formal minutes, oral and written evidence
House of Lords papers 2002-03 184 House of Commons papers 2002-03 1074
Sorry, this book is currently not available
Format:

Corporate Author:

Great Britain Parliament Joint Committee on the Draft Civil Contingencies Bill

Author:

Moonie Lewis chairman

Publisher:

TSO (The Stationery Office)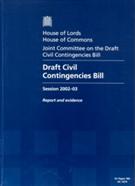 The draft Civil Contingencies Bill (Cm. 5843, ISBN 0101584326), published by the Government in June 2003, contains a range of measures to modernise Britain's civil protection laws in order to strengthen the powers available to government to deal with serious emergencies. This is part of the Government's wider package of measures to improve the country's resilience to 'disruptive challenge' which is defined as an emergency presenting a serious threat to human welfare; the environment; political, administrative or economic stability; or UK security, such as war, armed conflict and terrorism. This report examines various aspects of the draft Bill including problems of ambiguity in definitions, human rights issues, constitutional matters, resource implications, audit and management issues. The Committee raises a number of concerns, particularly with regards to human rights and civil liberties issues, and calls for clarification of the currently broad definitions of 'emergency' and 'serious', in order to provide adequate safeguards against misuse of emergency powers.