House of Lords Papers
Show me:
Is the European Central Bank working? with evidence 42nd report, session 2002-03
House of Lords papers 2002-03 170
Sorry, this book is currently not available
Format:

Corporate Author:

Great Britain Parliament House of Lords Select Committee on the European Union

Author:

Radice Giles Radice Baron chairman, Sub-Committee A

Publisher:

TSO (The Stationery Office)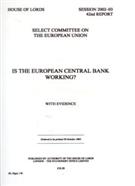 The Committee concludes that the ECB has performed well so far given its mandate, and has delivered the desired objective of price stability. The challenges facing the Bank, include: disputes over the Stability and Growth Pact, calls for greater transparency, and enlargement of the EU. The Committee recommends that he ECB should adopt a symmetrical inflation target, and that it should publish records of meetings of the Governing Council. In due course the monetary-policy decisions of the ECB should be taken by a small Monetary Policy Council, composed of the Executive Board and external experts, which would operate under the oversight of the current Governing Council, where all the Member States of the euro area are represented. The arrangements for communication between the ECB and the Eurogroup need to be strengthened.
Find similar publications here: