House of Lords Papers
Show me:
The draft constitutional treaty for the European Union 9th report session 2002-03
House of Lords papers 2002-03 168
Sorry, this book is currently not available
Format:

Corporate Author:

Great Britain Parliament House of Lords Select Committee on the Constitution

Author:

Norton of Louth Philip Norton Baron chairman

Publisher:

TSO (The Stationery Office)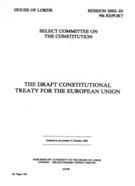 The Committee's report examines the draft constitution treaty for the EU, prepared by the Convention on the Future of Europe (Cm. 5897, ISBN 0101589727), and highlights matters which will have a particular impact on the operation of the UK constitution. The Convention was established as a forum for discussing wide-ranging EU reforms, particularly taking into account the consequences of EU enlargement.
Find similar publications here: