Supporting UK Exporters Overseas
HC 732, Report by the Comptroller and Auditor General
Author:

National Audit Office (NAO)

Publisher:

TSO (The Stationery Office)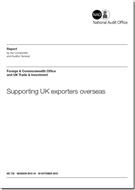 The 2012 Budget, announced the 'ambition' to double the value of exports by 2020 to £1 trillion a year. The report 'Supporting UK Exporters Overseas (HC 732)' examines the government's progress in achieving that aim.
Current performance has been flat over the last two years and exports will have to grow by 10 per cent year on year to meet the government's ambition. While the UK outperforms Germany, France and Italy in the Gulf, it has not traditionally performed as well in many other emerging markets, such as Russia, Brazil, Turkey and China. Success in these areas is essential if the government is to meet its target.
Many factors which affect export performance are outside the control of the Foreign and Commonwealth Office (FCO) and UK Trade and Industry (UKTI), such as exchange rates and political and economic changes overseas.
There is a joint UKTI-FCO Board to oversee coordination of their work overseas but currently there is no further joint accountability for planning, monitoring and delivery against their goal. Their initial responses to the government's objectives have not been sufficiently coordinated.
UKTI is now increasingly looking to measure actual business outcomes rather than volume of activity, and is piloting the use of external business partners to provide some of its services. Lessons must be learned from the evaluation of its pilot initiative to use external partners if it decides to roll it out.
Among the NAO's recommendations is that the FCO improve how it measures and monitors the impact of its activities supporting exports so that it can demonstrate that its spending of some £420 million a year yields tangible results.
Find similar publications here: