The Report Of The Azelle Rodney Inquiry
HC 552
Author:

The Azelle Rodney Inquiry

Publisher:

TSO (The Stationery Office)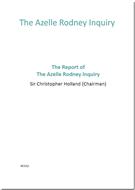 'The Report Of The Azelle Rodney Inquiry (HC 552)' presents the findings of the Inquiry into the death of Azelle Rodney, who was shot by an armed police officer on 30 April 2005.
Azelle Rodney died at Hale Lane, Mill Hill, in north London. The cause of his death was bullet wounds to his head and chest as a result of being shot by a Metropolitan Police Officer, called E7 for the purpose of the Inquiry.
Rodney was one of three people in a Volkswagen Golf car who were believed to be on their way to commit armed robbery. The Metropolitan Police Service (MPS) staged a pre-planned operation, Operation Tayport, and three police cars effected a hard stop, boxing-in the suspects' vehicle.
E7, who was tasked to provide static cover of the suspects with his G36 rifle from his passenger seat in the second police car, believed Rodney's movements suggested he was about to use a weapon, and fired six shots in one burst, then two more shots. Shots five to eight to his head were fatal.
This Inquiry was set up because no inquest took place, due to intelligence material not being able to be shown to the coroner or the jury.
The report concludes that:
Operation Tayport was not planned and controlled so as to minimise recourse to lethal force;

The force used by E7 was disproportionate and therefore unreasonable and unlawful;

E7's accounts of what he saw are not to be accepted;

E7 could not have believed that Rodney presented a threat to his life or that of his colleagues; and

even if it was proportionate to open fire at all, there would have been no basis for firing the fatal fifth to eighth shots.

The report is also critical of the police's handling of the situation subsequent to the shooting.