The Sovereign Grant And Sovereign Grant Reserve Annual Report And Accounts 2012-13
HC 212
Author:

House of Commons

Publisher:

TSO (The Stationery Office)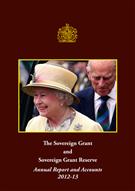 'The Sovereign Grant And Sovereign Grant Reserve Annual Report And Accounts 2012-13 (HC 212)' sets out the funding and expenditure to support the official duties of the Queen and maintain the Occupied Royal Palaces in 2012-13, in accordance with the Sovereign Grant Act 2011.
The Sovereign Grant was set at £31 million for 2012-13. Official expenditure met by this Grant in 2012-13 amounted to £33.3 million, and the equivalent of the excess was drawn down from the Sovereign Grant Reserve.
From 2013-14 the Sovereign Grant will be based on 15% of the Crown Estate surplus for the financial year from two years earlier. The Crown Estate surplus for the financial year 2011-12 amounted to £240.2 million, which produces a Sovereign Grant of £36.1 million for 2013-14
The Queen's official expenditure is met from public funds in exchange for the surrender of the revenue from the Crown Estate.
Find similar publications here: