Public Accounts Committee
Show me:
Ministry of Defence: Major Projects Report 2004
HC 1159-I, Session 2003-2004
Author:

Great Britain National Audit Office

Publisher:

TSO (The Stationery Office)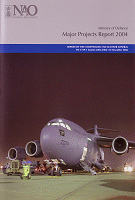 This is the NAO's annual report on the cost, time and performance data for the 20 largest MOD projects. It also examines the 10 largest projects where the main investment decision to proceed has not yet been taken.
The report finds that, in the course of the last year, costs have increased by £1.7 billion and the projects have been delayed by three months each on average.
Find similar publications here: