Government on the Web II
House of Commons papers 2001-02 764
Author:

National Audit Office

Publisher:

TSO (The Stationery Office)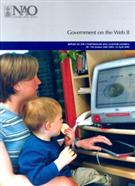 The Government has set the target that 100 per cent of services should be available on-line by 2005, and is now committing substantial sums of money to achieving the development of e-government.
The recent NAO report 'Better Public Services through e-government' examined progress in improving the management of IT projects across the public sector and the potential benefits of electronic service delivery.
This report focuses specifically on how government organisations have changed the way they plan and provide internet-based services since 1999. It contains two indepth case studies of two government departments, HM Customs and Excise and the Department for Transport, Local Government and the Regions, and also analyses central policy and initiatives undertaken principally by the Office of the e-Envoy. The report finds that progress has been made with most organisations having a web site. However, it highlights the need for more information on the financial costs and benefits of web-based services and calls for the central collection of data on website usage.
Recent Publications from the National Audit Office
Find similar publications here: