Command Papers
Show me:
Hard Truths: The Journey To Putting Patients First
Cm. 8754 - The Government Response to the Mid Staffordshire NHS Foundation Trust Public Inquiry
Author:

Department of Health

Publisher:

TSO (The Stationery Office)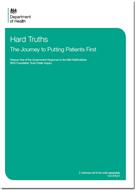 'Hard Truths: The Journey To Putting Patients First (Cm. 8574)' provides a detailed response to the 290 recommendations the Inquiry made across every level of the system in 'Patients First and Foremost' (see below; which set out a radical plan to prioritise care, improve transparency and ensure that where poor care is detected, there is clear action and clear accountability.
The report sets out how the whole health and care system will prioritise and build on this, including major new action in vital areas.
New actions include:
Transparent monthly reporting of ward-by-ward staffing levels and other safety measures;

A statutory and professional duties of candour;
Legislate at the earliest available opportunity on Wilful Neglect;

A new fit and proper person's test which will act as a barring scheme;

All arm's length bodies and the Department of Health have signed a protocol in order to minimise bureaucratic burdens on Trusts; and

A new Care Certificate to ensure that Healthcare Assistants and Social Care Support Workers have the right fundamental training and skills in order to give personal care to patients and service users.
The Care Bill will introduce a new criminal offence applicable to care providers that supply or publish certain types of information that is false or misleading, where that information is required to comply with a statutory or other legal obligation.
The report identifies five areas to aid improvement:
(i) Preventing problems;
(ii)Detecting problems quickly;
(iii)Taking action promptly;
(iv)Ensuring robust accountability; and
(v)Ensuring staff are trained and motivated.
Find similar publications here: