Engaging Communities in Criminal Justice
Cm. 7583
Author:

Criminal Justice System

Publisher:

TSO (The Stationery Office)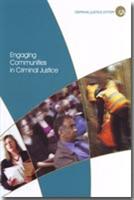 The network of services that deliver justice - the police, Crown Prosecution Service (CPS), the courts, prisons, and probation and Youth Offending Teams - is complex and often hard for the public to understand. If people are to have confidence that justice is effective and is being administered in their interests, then the delivery of justice needs to be more transparent, more responsive and more accountable.
The June 2008 review by Louise Casey, 'Engaging Communities in Fighting Crime', found that, for all the progress that has been made, the system can still feel too remote from people's everyday lives and the justice it delivers remain not visible enough. The overwhelming majority of the findings of the Casey Review have been accepted and many major changes to the system have already been made in response.
This Green Paper, 'Engaging Communities in Criminal Justice (Cm. 7583)', sets out the Government's proposals for further improvements, with the aim of creating a criminal justice service that:
is effective;

delivers justice for all;

has the interests of victims and witnesses at its heart; and

inspires the trust and confidence of the people it serves.
The document is built around four primary aims, which are critical components of the change being sought:
achieving stronger, community focused partnerships;

building on the success of community justice projects and the problem-solving approach to enhance the visibility of the CJS;

increasing the intensity and visibility of Community Payback; and

keeping the public better informed.
The June 2008 review by Louise Casey, 'Engaging Communities in Fighting Crime', is available to download from the Cabinet Office website: http://www.cabinetoffice.gov.uk/crime.aspx
Find similar publications here: