Annual Report on Human Rights 2008
Cm. 7557
Author:

Foreign & Commonwealth Office

Publisher:

TSO (The Stationery Office)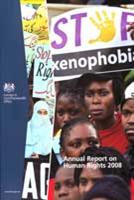 This annual Foreign & Commonwealth Office report, 'Annual Report on Human Rights 2008 (Cm. 7557)', covers the period 1 January to 31 December 2008. It provides an overview of the main challenges to human rights around the world and explains the government's activities and policies to address those challenges.
Divided into five chapters:
1 - Introduction

2 - Policy goals

Counter-terrorism, weapons proliferation and their causes

Promoting a low carbon, high growth economy

Prevent and resolve conflict

Develop effective international institutions

3 - Overseas Territories and human rights of British nationals abroad

4 - Key human rights themes

Equality

Democracy

Rule of law

5 - Major countries of concern.
Find similar publications here: