Office of The Deputy Prime Minister Committee
Show me:
The Governments response to the ODPM: Housing, Planning, Local Government and the Regions Committees report on the draft Housing Bill
Cm. 6000
Sorry, this book is currently not available
Format:

Corporate Author:

Great Britain Office of the Deputy Prime Minister

Publisher:

TSO (The Stationery Office)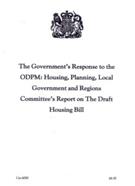 This document details the Government's reply to the Select Committee's report (HCP 751-I session 2002-03; ISBN 0215012127) on the draft Housing Bill (Cm 5793, ISBN 0101579322). This draft Bill contains proposals which seek to address problems in the operation of the private sector housing market, including a new rating system to replace the current housing fitness standard; licensing schemes for parts of the private rented sector; reforms to the Right to Buy scheme; and reform of the home buying and selling process.
Find similar publications here: