Education & Skills Committee
Show me:
The future of higher education: response to the report from the Education and Skills Committee, fifth report of session 2002-03.
Cm. 5932
Sorry, this book is currently not available
Format:

Corporate Author:

Great Britain Department for Education and Skills

Publisher:

TSO (The Stationery Office)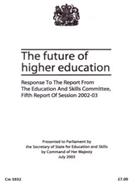 This paper details the Government's reply to the Committee's report (HCP 425-I, session 2002-03; ISBN 0215011600) on the Government's proposals for the future of higher education set out in the White Paper published in January 2003 (Cm. 5735, 0101573529). Responses are given under the headings of research, higher education and business, teaching and learning, expanding higher education, fair access opportunities, university funding and student support, and the future of higher education.
Find similar publications here: