Health Committee
Show me:
The Governments response to the Health Committees 2nd report of session 2002/03 into NHS foundation trusts
Cm. 5876
Sorry, this book is currently not available
Format:

Corporate Author:

Great Britain Department of Health

Publisher:

TSO (The Stationery Office)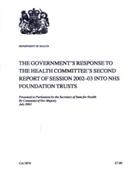 This document sets out the Government's response to the Health Select Committee report (HCP 395-I, 2002/03; ISBN 0215010574) on NHS Foundation Trusts, and seeks to clarify several aspects of this policy. The Committee's report raised concerns regarding democratic accountability; a possible increase in bureaucracy; the relations between foundation trusts and primary care trusts; the need for mechanisms to prevent foundation trusts attracting resources away from poorer-performing hospitals; and their impact on the resourcing, staffing and performance of other NHS organisations. The document restates that Foundation Trusts will remain a full part of the NHS with a priority of providing services to NHS patients on the basis of need and free at the point of use, subject to NHS standards, performance ratings and inspection systems, although enjoying greater financial and management freedoms.
Find similar publications here: