Culture, Media & Sport Committee
Show me:
The Governments proposals for gambling nothing to lose? Government response to the seventh report from the Culture, Media and Sport Select Committee session 2001-2002
Cm. 5622
Sorry, this book is currently not available
Format:

Corporate Author:

Great Britain Department for Culture, Media and Sport

Publisher:

TSO (The Stationery Office)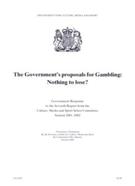 In March 2002, the Government published a policy paper "A safe bet for success" (Cm. 5397, ISBN 010153972X) setting out its proposals for reforms to modernise Britain's gambling laws, which followed on from the consultation in response to the "Gambling review report" (2001, Cm. 5206, ISBN 010152062X). This document details the Government's response to the Select Committee's seventh report (HCP 827-I, ISBN 0215004582) on its proposals, including the incidence of problem gambling and funding levels provided by the gambling industry to support prevention and treatment programmes; reforms of the licensing and planning system for gambling premises; and the impact of gaming machines on children.
Find similar publications here: