Integrating PRINCE2®
Online Subscription
Author:

AXELOS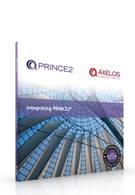 This practical guide shows you how to embed PRINCE2 within your organization and tailor the method to your specific work environment and business context.
Complementing and expanding on the guidance in the PRINCE2 5th edition manual, this publication covers a diverse range of situations, using case studies based on real experience. You will find out how to assess a project to determine what level of tailoring is required, and how to embed PRINCE2 effectively within your organization to enhance the benefits of using this method.
This publication brings project management to life, and shows you how to make PRINCE2 work for you and your circumstances.
A must-read for those who want to get the most out of putting PRINCE2 into practice and enjoy improved project delivery as a result.
Price quoted below is for single user access. To discuss multi-user access and the packages available, please contact our dedicated digital sales team on: email digital@tso.co.uk ; or telephone: +44 1603 696675.
Alternative formats
Extent
N/A
Sub. No.
7003243
Size
N/A
Price

£25.00

Format
Online Subscription
Availability

Available to order