Portfolio, Programme, Project Management (P3M3®) Enhanced Self-Assessment
Online Subscription
Author:

AXELOS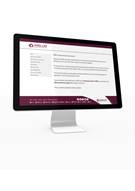 P3M3 (Portfolio, Programme and Project Management Maturity Model) is a management maturity model that looks across an entire organization to assess how it delivers its portfolios, programmes and projects.
P3M3 is unique in that it considers the whole system and not just the processes. It analyses; the balance between the process, the competencies of the people who operate it, the tools that are deployed to support it, and the management information used to manage delivery and improvements.
Why P3M3?
Can be tailored to meet the needs of your organization

Provides three maturity models (Portfolio, Programme and Project management) that can be used separately to focus on specific areas of the business, or more generally to help you assess relationships between the three areas

Helps define strengths and areas of opportunity for training and certification with AXELOS ProPath

Uses an integrated approach to improvement which leads to decreased costs and improvements in on-time delivery, productivity, quality and customer satisfaction
Who is it for?
P3M3 is suitable for anyone looking to assess and implement improvements in their organization, for example:
Directors and Leaders responsible for delivering change

Heads of portfolios, programmes or projects

Portfolio, programme or project office managers

Procurement teams
The P3M3 self-assessment helps provide indicative maturity scores and is a great starting point for an organization taking its first step to initiating change or improvement.
Price quoted below is for single user access. To discuss multi-user access and the packages available, please contact our dedicated digital sales team on: email digital@tso.co.uk ; or telephone: +44 1603 696675.
Extent
N/A
Sub. No.
7003213
Size
N/A
Price

£300.00

Format
Online Subscription
Availability

Available to order
Find similar publications here: