Management of Risk(M_o_R®) - Guidance for Practitioners 3rd Edition
Online Subscription
Author:

AXELOS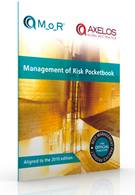 Taking and managing risk is essential for organizations to achieve their business objectives. Management of Risk (M_o_R) provides a route map for cost-effective, best-practice risk management that can help organizations improve service delivery and achieve real value for money.
Key features:
Provides an accessible, step-by-step framework for managing risk that covers the M_o_R principles, approach and process

Advises on how to embed and review risk management differently depending on the objectives at risk

Demonstrates how successful risk management can benefit an organisation by contributing to fewer unwelcome surprises, more efficient use of resources, better service delivery and lower capital costs

Includes real-life examples that illustrate how the M_o_R principles, approach and process can be applied

Identifies more detailed sources of advice on risk management techniques and specialisms.
An Online Subscription gives you access to the latest authoritative text. Functionality includes:
Dynamic content

Easy navigation

Bookmarking

History

Cross-linking between chapters.
Price quoted below is for single user access. To discuss multi-user access and the packages available, please contact our dedicated digital sales team on: email digital@tso.co.uk ; or telephone: (0)1603 696016.
Packages are available for those wanting to obtain electronic multi-user access across an organization. Please email digital@tso.co.uk to discuss your requirements or contact us on +44 1603 696675.
Find similar publications here: