The Edinburgh Gazette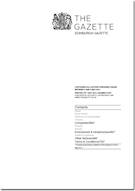 Published twice weekly by The Stationery Office, The Edinburgh Gazette is a similar publication to both the London and Belfast Gazettes, covering notices of a legal and public nature.
Information is given on notices of bankruptcies, appointment of liquidators or meetings of creditors. Local Authorities place notices in the Gazette, e.g. closing of roads and footpaths, acquisition of land for development etc., to coincide with the appearance of notices in the local press.
Find similar publications here: