ITIL 2007 Edition
Service Management ITIL® 2007 (V3)
ITIL provides a systematic and professional approach to the management of IT service provision. Based on expert advice and input from users, ITIL guidance is both current and practical, combining the latest thinking with sound common sense and guidance.
Using an holistic approach, ITIL looks at the lifecycle of a project rather than delivery sectors, with core lifecycle practices fully supported by more detailed content specific to industry, stakeholders and practice topics - strengthening the link between best practice and business benefits.
Passing Your ITIL V3 Intermediate Exams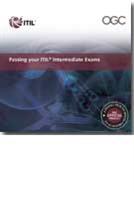 This ITIL V3 publication, 'Passing Your ITIL Intermediate Exams - Study Aid from the Official Publisher of ITIL', endorsed by the official ITIL Accreditor, is suitable for candidates taking both the ITIL Service Lifecycle Exams and the Capability Exams.
Available formats:
ITIL V3 Small-Scale Implementation