The Gazette is the UK's official public record, comprised of The London Gazette (published every week day), The Belfast Gazette (published on Fridays) and The Edinburgh Gazette (published on Tuesdays and Fridays). Issues are available by subscription or online, and are fully searchable via the website.
Many of the notices that are placed in The Gazette are required by law (statutory), but some are published because it is deemed to be in the public's interest that the information is in the public domain. The Gazette is often cited in legislation and considered by the courts and other legal organisations to be the most effective portal to achieve this.
The Gazette has been recording key events in British history for over 350 years and is a valuable resource for historians and family researchers. From despatches detailing events in World War 1 to the birth of Princess Charlotte, The Gazette has recorded it all. All state honours, including civilian and diplomatic, are listed in The Gazette, along with those for gallantry or meritorious service. The Gazette is the official bearer of War Office and Ministry of Defence events, with a weekly supplement published on behalf of the forces every Tuesday.
---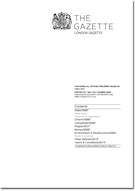 £1787.50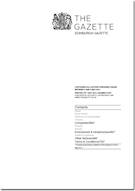 £447.50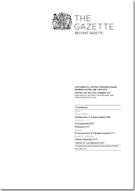 £220.00
---
The Gazette data service

Data from The Gazette is available in multiple formats and can be tailored to your requirements to ensure compatibility with your own internal systems and processes. The information can be provided in a bespoke format that best suits your needs, delivered direct on the day of publication or on a weekly basis as PDF, Excel or XML feeds. Click here for more information, contact us by phone on +44 (0)1603 696981 or via email at: data@thegazette.co.uk.
---
All Gazette notices and supplements are available to view at The Gazette.
To view individual Gazette editions, please visit publications on The Gazette.
---