Drug Tariff
Annual Subscription
Author:

NHS Business Services Authority - Department of Health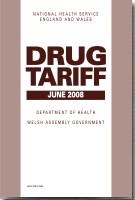 Add to Basket
The Drug Tariff provides up-to-date guidance for dispensing doctors and pharmacists regarding the latest drugs and appliances charges. Included in the Drug Tariff is the latest guidance regarding payments to contractors for NHS Services.
The Tariff covers both remuneration (the value of the dispensing fees and allowances made to professionals as part of the NHS pharmacy contract) and reimbursement (the cost of drugs and appliances supplied against an NHS Prescription form).
The accuracy of this information is of great importance to those working on the front line and as such has been developed as a subscription product, allowing prescribers and dispensers access to the information as soon as it is published.
The Drug Tariff subscription is updated monthly, with 12 issues per year providing the latest guidelines in drug and medical appliance charges. It details when updated charges have been made and when new entries are featured.