Improving Health and Work: Changing Lives - The Government's Response to Dame Carol Black's Review of the Health of Britain's Working-age Population
Cm. 7492
Author:

Department for Work and Pensions / Department of Health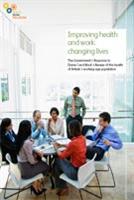 The costs of working-age ill health to Britain are large by any standards. Dame Carol Black estimated that the annual economic cost of ill-health - in terms of working days lost and worklessness - was over £100 billion. The Confederation of British Industry (CBI) estimated that last year 172 million working days were lost due to absence, costing employers £13 billion. Against a backdrop of a wider economic downturn both taxpayers and businesses can ill afford to bear these largely unnecessary costs.
However, the cost of ill-health cannot be measured in pounds and pence alone. There are about 2.6 million people on incapacity benefits and 600,000 people make a new claim each year. Of these, half had been working immediately before they moved onto benefit.
Once out of work it is likely that an individual's health will worsen and they and their families are more likely to fall into poverty and become socially excluded. Therefore, health-related inactivity prevents individuals from fulfilling their potential, causes needless financial hardship, and damages the communities in which people live.
This response is built around three key aspirations that demonstrate how the Government will rise to the challenges set by Dame Carol:
Creating new perspectives on health and work

Improving work and workplaces

Supporting people to work.
Chapter 5 details how the Government will measure progress against its targets, and chapter 6 sets out future steps that the Government intends to take.
These include:
better integrating skills, health and employment provision;

reviewing the incentives for individuals, employers and the state to tackle sickness absence to ensure they are optimally balanced; and

continuing to develop strategies to address the specific needs of those with poor mental health.
Dame Carol Black's March 2008 Review of the Health of Britain's Working Age Population, 'Working for a Healthier Tomorrow' (ISBN 9780117025134), is available to buy separately, please see below.
Find similar publications here: