Life in the United Kingdom: A Guide for New Residents
3rd edition - book
Author:

Great Britain Home Office

Publisher:

TSO (The Stationery Office)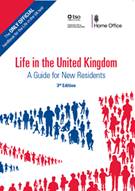 Add to Basket
Ensure you are fully prepared for your Life in the UK test with the only official handbook from the Home Office, published by TSO.
This essential handbook covers the range of topics you need to know to pass your test and apply for UK citizenship or permanent residency, including:
The process of becoming a citizen or permanent resident

The values and principles of the UK

Traditions and culture from around the UK

The events and people that have shaped the UK's history

The government and the law

Getting involved in your community
Other formats available:
Need help? Speak to our Customer Services team on tel. 0333 202 5070
More information
To help you prepare for your test, you will find:
'Check that you understand' boxes at the end of every section

A glossary of key words and phrases
How to prepare for the Life in the UK Test
The Life in the UK Test is taken by people who wish to apply for Indefinite leave to remain in the UK, or for British citizenship. We recommend that you should start your revision at least three months before taking your test. This will help with your test preparation and give you a better chance of passing first time. You will be tested on information in the Official Life in the United Kingdom A guide for New Residents, you should study this book to prepare for the test. There are other revision aids available to use with the Guide. These are shown below.
Find similar publications here: