Department for Transport
Show me:
Code of Practice for the Co-ordination of Street Works and Works for Road Purposes and Related Matters 4th edition (revised October 2012)
Author:

Department for Transport (DfT)

Publisher:

TSO (The Stationery Office)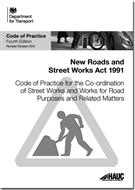 Add to Basket
This code of practice provides practical guidance and advice for street authorities and undertakers in England on their legal responsibilities in relation to street or highway works including:
The need to balance potentially conflicting interests of road users

The importance of co-operation, regular communications and local liaison meetings between street authorities, undertakers and other interested parties

The importance of respecting the objectives of streets subject to special controls

Taking account of the needs of all road users, including those with disabilities, whether they are pedestrians, equestrians, cyclists or drivers, at all stages of the planning and execution of street works.
This fourth edition includes a revised Chapter 10, Charging Schemes, following 2012 amendments to these regulations:
The Street Works (Charges for the Unreasonably Prolonged Occupation of the Highway) (England) Regulations 2009, SI 2009, No. 303 (as amended by SI 2012 No. 2272);
The Street Works (Charges for Occupation of the Highway) (England) Regulations 2012, SI 2012 No. 425.
Find similar publications here: