Mental Health
Show me:
Mental Health Atlas 2011
Author:

World Health Organization (WHO)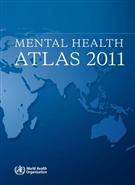 Add to Basket
WHO's Project Atlas is aimed at collecting, compiling, and dessiminating information on global mental health resources. Atlas 2011 presents updated information from 184 WHO Member States on available resources for treatment and prevention of neuropsychiatric disorders globally, by WHO region, and by income group.
Mental Health Atlas 2011 shows that mental health resources within most countries remain inadequate. Moreover, resources across regions and different income levels are substantially uneven, and in many countries resources for mental health are extremely scarce. In comparing Atlas 2005 and 2011 there is some evidence of a small gain in mental health human resources. However, these gains are largely in high and middle income countries and not in low income countries. Results from Mental Health Atlas 2011 reinforce the urgent need to scale up resources for mental health care within countries.
Find similar publications here: