Mental Health
Show me:
Psychological First Aid: Guide for Field Workers
Author:

World Health Organization (WHO)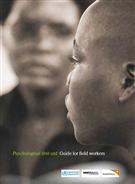 Add to Basket
Perhaps you are called upon as a staff member or volunteer to help in a major disaster, or you find yourself at the scene of an accident where people are hurt. Perhaps you are a teacher or health worker talking with someone from your community who has just witnessed the violent death of a loved one. This guide will help you to know the most supportive things to say and do for people who are very distressed. It will also give you information on how to approach a new situation safely for yourself and others, and not to cause harm by your actions.
Psychological first aid has been recommended by many international and national expert groups, including the Inter-Agency Standing Committee (IASC) and the Sphere Project. Psychological first aid is an alternative to psychological debriefing. In 2009, the World Health Organization's (WHO) mhGAP Guidelines Development Group evaluated the evidence for psychological first aid and psychological debriefing. They concluded that psychological first aid, rather than psychological debriefing, should be offered to people in severe distress after being recently exposed to a traumatic event.
This guide was developed in order to have widely agreed upon psychological first aid materials for use in low and middle income countries. The information we have given here is a model only. You will need to adapt it appropriately to the local context and the culture of the people you will help.
This guide - endorsed by many international agencies - reflects the emerging science and international consensus on how to support people in the immediate aftermath of extremely stressful events.
Find similar publications here: