Generic Risk Assessments
Show me:
Acetylene [Looseleaf version]
Generic risk assessment GRA 5.2
Corporate Author:

Chief Fire and Rescue Adviser

Author:

Great Britain Department for Communities and Local Government, Chief Fire and Rescue Adviser

Publisher:

TSO (The Stationery Office)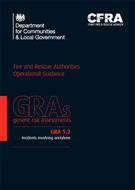 Add to Basket
Paperback version also available (ISBN 9780117540729). On cover: Fire and Rescue Service operational guidance. GRAs - generic risk assessments. This series only applies to England. Dated ?? 2009.
Find similar publications here: