Volume 3: Fire Safety
Show me:
Fire and Rescue service manual: Vol. 3 Fire safety
Corporate Author:

Great Britain H.M. Fire Service Inspectorate

Publisher:

TSO (The Stationery Office)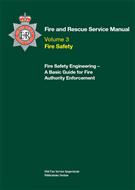 Add to Basket
This manual provides a guide for fire authorities who act as enforcement agencies for the fire safety regulations and orders, and is particularly aimed at those officers who may not be familiar with the application of fire safety engineering in building designs. It will also be useful to designers and engineers by providing an outline of a typical fire safety engineering design. The procedures described take account of existing consultation procedures between building control authorities and fire authorities, and should be read in conjunction with BS 7974:2001. Issues covered include: fire safety philosophy and technique; qualitative and quantitative design; smoke control systems; suppression, detection and compartmentation; means of escape; management and fire-fighting; fire safety enforcement; fire safety engineering checklist; technical standards; national, European and international standards of fire safety engineering.
Extent
viii, 77p.
ISBN
9780117541399
Size
N/A
Price

£23.33

Format
PDF
Published
11 Apr 2014
Availability

Available Immediately