Volume 2: Fire Service Operations
Show me:
Fire Service manual: Vol. 2 Fire service operations
Corporate Author:

Great Britain H.M. Fire Service Inspectorate, Great Britain Office of the Deputy Prime Minister

Publisher:

TSO (The Stationery Office)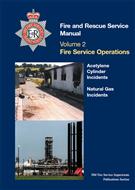 Add to Basket
This publication provides guidance on dealing with incidents involving dissolved acetylene cylinders and incidents involving natural gas, while reflecting issues concerning the selection, use, capabilities and limitations of personal and operational equipment. Acetylene, a highly flammable compound, which is unique amongst industrial gases in general use as it which can decompose to constituent elements if exposed to extreme heat or shock and lead to percussive explosions.
Extent
vi, 35, vi, 53p.
ISBN
9780117541351
Size
N/A
Price

£27.50

Format
PDF
Published
11 Apr 2014
Availability

Available Immediately
Find similar publications here: