Volume 2: Fire Service Operations
Show me:
Fire and Rescue service manual: Vol. 2 Fire service operations
Corporate Author:

Great Britain H.M. Fire Service Inspectorate

Author:

David Hanlon, Brian McGlashan (technical adviser)

Publisher:

TSO (The Stationery Office)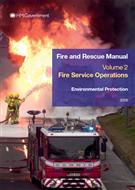 Add to Basket
This Fire and Rescue Manual is the first manual within the Fire Service Operations series dedicated to the protection of the environment. This publication provides information and guidance designed to support firefighters, Fire Brigade Service managers and trainers in their work at operational incidents, training events and during day-to-day activities. This manual contains guidance for Fire and Rescue Services (FRSs) on preventing and if necessary, dealing with incidents with the potential to pollute. Through its guidance this manual also ensures FRSs can help minimise their own impact on the environment by providing advice on how to prevent pollution from their own premises. This new Fire and Rescue Service manual is essential reading for Fire and Rescue Service managers and those involved in incident response across all of the emergency services.
Extent
210p.
ISBN
9780117541344
Size
N/A
Price

£15.79

Format
PDF
Published
11 Apr 2014
Availability

Available Immediately