Department of Health HBN's & HTM's
Show me:
Health Technical Memorandum 04-01: Safe Water in Healthcare Premises - Part A: Design, Installation and Commissioning
The Control of Legionella, Hygiene, 'Safe' Hot Water, Cold Water and Drinking Water Systems
Publisher:

TSO (The Stationery Office)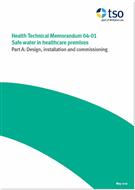 Add to Basket
This Health Technical Memorandum (HTM) gives comprehensive advice and guidance to healthcare management, design engineers, WSGs, estates managers and operations managers on the legal requirements, design applications, maintenance and operation of hot and cold water supply, storage and distribution systems in all types of healthcare premises.
It is equally applicable to both new and existing sites. It has been revised to take account of HSE's revision of its Approved Code of Practice and guidance on regulations 'Legionnaires' Disease: The Control of Legionella Bacteria in Water Systems (L8)' and its Complementary Technical Guidance HSG274.
The document comprises three parts:
Part A outlines the principles involved in the design, installation and testing of the hot and cold water supply, storage and distribution systems for healthcare premises. Some variation may be necessary to meet the differing requirements for the various water undertakers.

Part B covers operational management.

Part C covers water safety in augmented care settings.
HTM 04-01: Supplement - 'Water Systems Performance Specification D 08: Thermostatic Mixing Valves (Healthcare Premises)' contains guidance on the on-site testing and commissioning of thermostatic mixing valves
Find similar publications here: