Department of Health HBN's & HTM's
Show me:
Facilities for child and adolescent mental health services (CAMHS) case studies
Health building note HBN 03-02 Supp. A Mental health
Corporate Author:

Department of Health Estates and Facilities Division

Publisher:

TSO (The Stationery Office)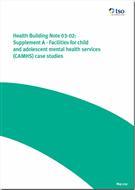 Add to Basket
This guidance covers the design of Child and Adolescent Mental Health Services (CAMHS) accommodation for children and young people aged up to 18 years. It provides full descriptions of rooms that are specific to CAMHS and are not contained in other HBNs1, particularly HBN 03-012. HBN 03-01 is the overarching document for all mental health inpatient accommodation detailing rooms common to all services regardless of specialty. HBN 03-02 identifies areas where the requirements for CAMHS differ from those in an adult acute environment. The purpose of this document is to inform the planning and design of facilities for CAMHS but particularly for Tier 4 (in-patient services), to offer best practice guidance and to support the delivery of care in appropriate surroundings to assist in meeting the national and local service objectives. The ten case studies provided in this supplement to the main document are a sample of recent and current schemes that may offer inspiration and an indication of "what good looks like" at the time of publication. Of the ten, two are not yet built (one offers an example of service user stakeholder engagement). The eight that are built and in use were visited by the authoring team.
Find similar publications here: