Department of Health HBN's & HTM's
Show me:
Electrical services supply and distribution 2017 ed
Health technical memorandum HTM 06-01
Corporate Author:

Great Britain Department of Health

Publisher:

TSO (The Stationery Office)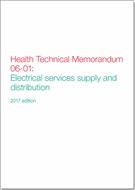 Add to Basket
This edition of Health Technical Memorandum 06-01 introduces the concept of the Electrical Safety Group in healthcare organisationsThis is a multidisciplinary group responsible for ensuring that all electrical safety issues are monitored, recorded and acted on in line with the relevant legislation and guidance. Most organisations should already have an electrical health and safety committee or similar group in place to manage electrical safety. The Electrical Safety Group should take over this role, but with a more holistic remit. The Health Technical Memorandum recommends that the Group report to the responsible person at Board level and be led and chaired by a person who has appropriate management responsibility, knowledge, competence and experience.
Find similar publications here: