Department of Health HBN's & HTM's
Show me:
Decontamination of flexible endoscopes: Part E Testing methods
Health technical memorandum HTM 01-06
Corporate Author:

Great Britain Department of Health

Publisher:

TSO (The Stationery Office)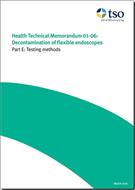 Add to Basket
The CFPP series of documents are reverting to the Health Technical Memorandum title format. Health Technical Memorandum (HTM) 01-06 provides best practice guidance on the management and decontamination of flexible endoscopes (principally gastrointestinal scopes and bronchoscopes). In addition, this guidance also provides advice on the management and handling of an endoscope following use on a patient at increased risk of vCJD.
Find similar publications here: