Department of Health HBN's & HTM's
Show me:
Decontamination of linen for health and social care: guidance for linen processors implementing BS EN 14065 2016 ed
Health technical memorandum HTM 01-04
Corporate Author:

Great Britain Department of Health

Publisher:

TSO (The Stationery Office)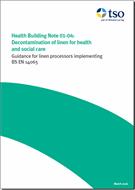 Add to Basket
This HTM supersedes the Choice Framework for local Policy and Procedures (CFPP) series, which was a pilot initiative by the Department of Health. The CFPP series of documents are reverting to the Health Technical Memorandum title format. This will realign them with 'HTM 01-05: Decontamination in primary care dental practices' and the naming convention used for other healthcare estates and facilities related technical guidance documents within England. It will also help to address the recommendation to align decontamination guidance across the four nations. In 01-04 DH will be retaining the Essential Quality Requirements and Best Practice format, this maintains their alignment with HTM 01-05 and the requirement of 'The Health and Social Care Act 2008: Code of Practice on the prevention and control of infections and related guidance' which requires that "decontamination policy should demonstrate that it complies with guidance establishing essential quality requirements and a plan is in place for progression to best practice". We are aware that policy within the devolved nations differs on this particular issue but the aim is that the technical content should be consistent and able to be adopted by the devolved nations.