Department of Health HBN's & HTM's
Show me:
Lifts 2016 ed
Health technical memorandum HTM 08-02
Corporate Author:

Great Britain Department of Health

Publisher:

TSO (The Stationery Office)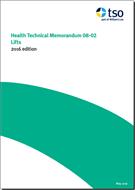 Add to Basket
This Health Technical Memorandum gives comprehensive advice and guidance on the planning, design, installation, commissioning, testing, maintenance and operation of new lifts (vertical transportation) in healthcare buildings. It also provides supporting information that can be used in specifications for manufacturers, procurement contracts and the briefing of design teams. Although this Health Technical Memorandum is applicable to new installations, it can be usedfor the upgrading and modernisation of existing installations, and is of use at various stages during the inception, design, commissioning, testing and maintenance of lift services. It is intended to be read by directors of estates and facilities, buildings services engineers, electrical and mechanical engineers, facilities managers, architects, premises designers, consulting engineers, equipment suppliers, equipment examiners, testers and maintainers. It can be used by bodies, organisations and individuals, who carry out the various duties indicated in this HTM for example when carried out by outside contractors or under a Public Finance Initiative (PFI) contract. This guidance supersedes HTM 08-02 published in 2010 and the four parts of Health Technical Memorandum 2024 published in 1995.