Department of Health HBN's & HTM's
Show me:
Sanitary spaces May 2016 ed
Health building note HBN 00-02 Core elements
Corporate Author:

Department of Health Estates and Facilities Division

Publisher:

TSO (The Stationery Office)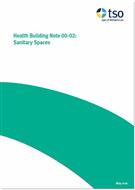 Add to Basket
This Health Building Note (HBN) provides evidence-based best practice guidance on the design and layout of sanitary spaces for use in healthcare settings. Room sizes have been standardised wherever possible. For areas where a standard room size is not appropriate, this document provides a sizing methodology suitable forbriefing purposes. Most of the indicative room layouts are informed by one or more ergonomic drawings. In places, the guidance differs from that provided in Approved Document M (2010) and BS 8300:2001 (2009 edition). Where this is the case, the reasons for the variations are discussed.
Find similar publications here: