Department of Health HBN's & HTM's
Show me:
NHS car-parking management: environment and sustainability November 2015 ed
Health technical memorandum HTM 07-03 Environment and sustainability
Corporate Author:

Great Britain Department of Health Estates and Facilities Division

Publisher:

TSO (The Stationery Office)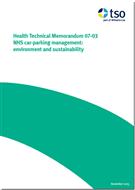 Add to Basket
The purpose of this guidance is to help NHS organisations identify best practice in car-park management and sustainable transport in order to improve the patient and visitor experience and support staff on their journeys to and from work. The guidance identifies how the NHS patient, visitor and staff car parking principles can be implemented within an NHS organisation's carparking provision and what measures need to be considered when developing strategies and policies. The guidance contains a number of measures that have been used by NHS organisations to educe the demand on parking and promote better use of car-parks on NHS sites. These measures have been broken down into the following three categories: sustainable transport; car-park management; car-park equipment.
Find similar publications here: