Department of Health HBN's & HTM's
Show me:
Firecode: guidance in support of functional provisions (fire safety in the design of healthcare premises) November 2015 ed
Health technical memorandum HTM 05-02 Fire safety
Corporate Author:

Great Britain Department of Health Estates and Facilities Division

Publisher:

TSO (The Stationery Office)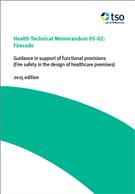 Add to Basket
This is the November 2015 edition of Health Technical Memorandum (HTM) 05-02 - 'Guidance in support of functional provisions (Fire safety in the design of healthcare premises)'. The document has been revised to reflect changes in legislation, guidance, the structure of the NHS, and government policy and direction on health and social care. HTM 05-02 and the series of which it is part provide specific guidance on fire safety in the design of new healthcare premises and major new extensions to existing healthcare premises. While not intended to cover every possible scenario, the standards and principles it advocates recognise that fire safety in healthcare premises is dependent on the interaction between physical fire precautions, the dependency of the patient, the fire hazards and the availability of sufficient and appropriately trained staff to safely evacuate patients in a fire emergency. The guidance is applicable to all premises regulated by the Care Quality Commission (CQC), irrespective of ownership. HTM 05-02 should allow the current statutory regulations to be applied sensibly within a framework of understanding and if applied correctly, will satisfy all the requirements of Part B of Schedule 1 of the 2010 Building Regulations.
Find similar publications here: