Department of Health HBN's & HTM's
Show me:
EnCO2de - making energy work in healthcare: Part A Policy and management
Health technical memorandum HTM 07-02 Environment and sustainability
Corporate Author:

Great Britain Department of Health Estates and Facilities Division

Publisher:

TSO (The Stationery Office)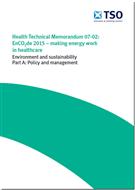 Add to Basket
This HTM is the primary guidance on energy efficiency in healthcare facilities in England. It has been produced as a guide to all issues relating to the procurement and management of energy in the NHS and energy efficiency in new build and existing buildings. Encode 2015 incorporates the learning from projects implemented under the NHS Energy Efficiency Fund (EEF) which was undertaken during 2013/2014. Encode 2015 has been written by the University of Cambridge Department of Architecture and the University of Cambridge Centre for Sustainable Development in the Department of Engineering. It incorporates their observations and examples of good practice following their role of monitoring the differing nationwide EEF projects.
Find similar publications here: